Estimated Reading Time:
2
minutes
Tired of the struggle to sift through your unread emails, while relentlessly organizing your conversations and tasks? Slack is the perfect tool to facilitate your nonprofit's internal communications and take the pressure off your inbox.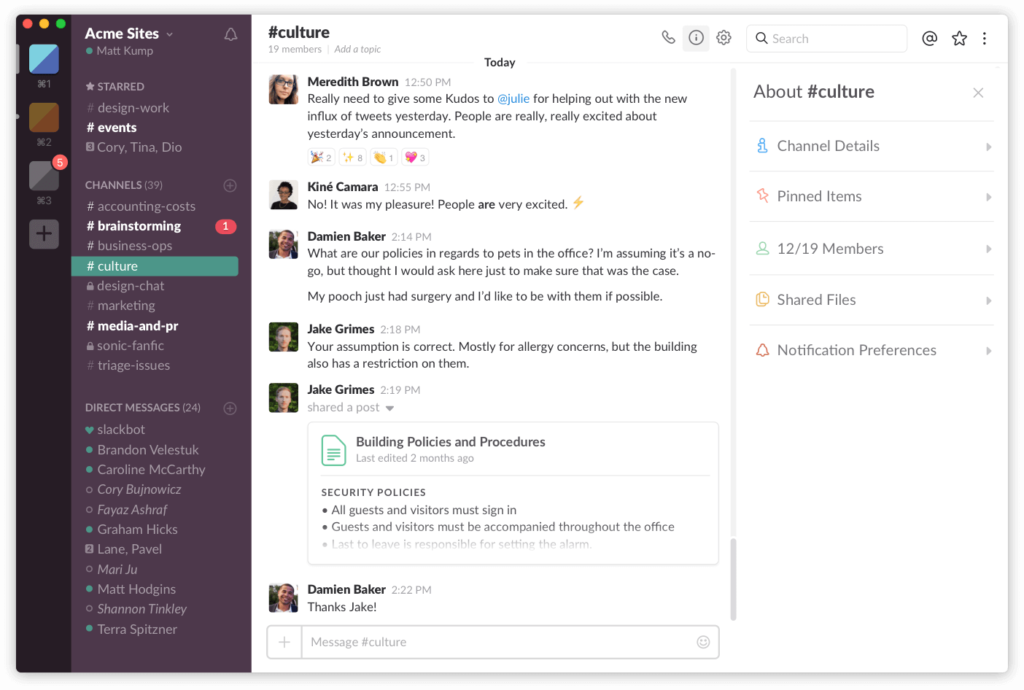 Image from Slack Help.
What is Slack?
Slack is a web and mobile-based communications app in which your nonprofit can engage in team communications over organized channels, send direct messages, share files, and make calls. Everything is searchable.
Slack is great for any business, as it can help team members delegate tasks, work together, share ideas, and ask questions from one another without in-person interruptions or cluttering anyone's inbox.
A look inside the app
Take a tour on of the app, a video by Slack
The Slack app functions much like an advanced chat room, where users can create simple profiles and communicate through chats enhanced by expressive features which include emojis, giphys, and hastags. At its core, it is fun and easy-to-use chatting tool.
So why is this good for your nonprofit?
When you have to keep track of a task through email communications, things get lost, people forget to hit "reply all," and all kinds of mishaps can occur. Slack helps you keep on task, in conversation with the right people, and allows for all your files to stay in one place.
Slack channels

Slack allows for public channels, private channels (where only certain team members have access) and direct messages, which are only visible to those in the conversation. Original image from Slack Help.
The strongest feature of the Slack app is the ability to streamline and organize your team's communications through channels. A channel consists of a subset of team members who are given access to a particular chatroom relevant to their work. This comes in handy for organizations with different departments, or with certain team members working together on a focus project. These channels and allow for customized, continuous group communication — without any of the sorting.
On the app, you can make several different channels, and each channel is assigned an "owner" that takes responsibility for it. You can only access the channels you are invited to, and you also have the ability to create new channels as needed. Within group channels, you can reply to someone's comment, so the thread of messages is kept organized. You can also message people individually.
Here's an overview of what you can do with Slack:
Upload and store files

Make specific mentions of people

Communicate from anywhere (mobile app)

Message groups or members directly

Set reminders for meetings and other deadlines

Conduct video conferences

Search messages

Organize with hashtags

Pin and star items
Build morale
An extra perk is that you can use Slack to help build morale within your organization's team. You can start a channel that essentially consists of "water cooler conversation" in which your team can exchange chit chat, share fun videos, exchange team photos, and bond over jokes. And if your team members start to feel distracted, Slack has a "Do Not Disturb" feature that turns off notifications for the app for as long as the feature is enabled.
It's cheap!
Nonprofits get 85% off Slack's Standard and Plus plans (which are priced regularly at $6.67 and $12.50 per active user, per month). There is also a free version which works well for small teams, and that alone might suit your organization's needs.
---
Does your nonprofit use Slack? Tell us what you think about it in the comments!