Estimated Reading Time:
5
minutes
Born from the ubiquitous crowdfunding model, peer-to-peer propels fundraising one big evolutionary leap forward. Reported to be 300x more effective than typical organization-led fundraising, the peer-to-peer model is perhaps the single most exciting and effective new tool available in your development program toolbox.
What is Peer-to-Peer?
Peer-to-peer (P2P) decentralizes the burden of fundraising from just one person (or team) in your organization to your organization's greater network. It's a process of inspiring your supporters to become advocates and fundraise on your behalf. And because they're reaching out to their own networks with a personalized appeal, the result is a much higher conversion. The authenticity of the connections (with a benign peppering of guilt factor) creates an avenue by which your non-profit's mission can directly reach a new audience. It's highly effective in the same way as word-of-mouth marketing – because we respond best to people whom we know personally. If you've ever had a friend ask you to contribute to a charity for her birthday, or your nephew ask you to purchase candy to support his school, you've probably noticed that you rarely think twice before saying yes, even if just for $5. Now imagine that amplified by multiple networks. That's the brilliance of a peer-to-peer fundraising ask in action!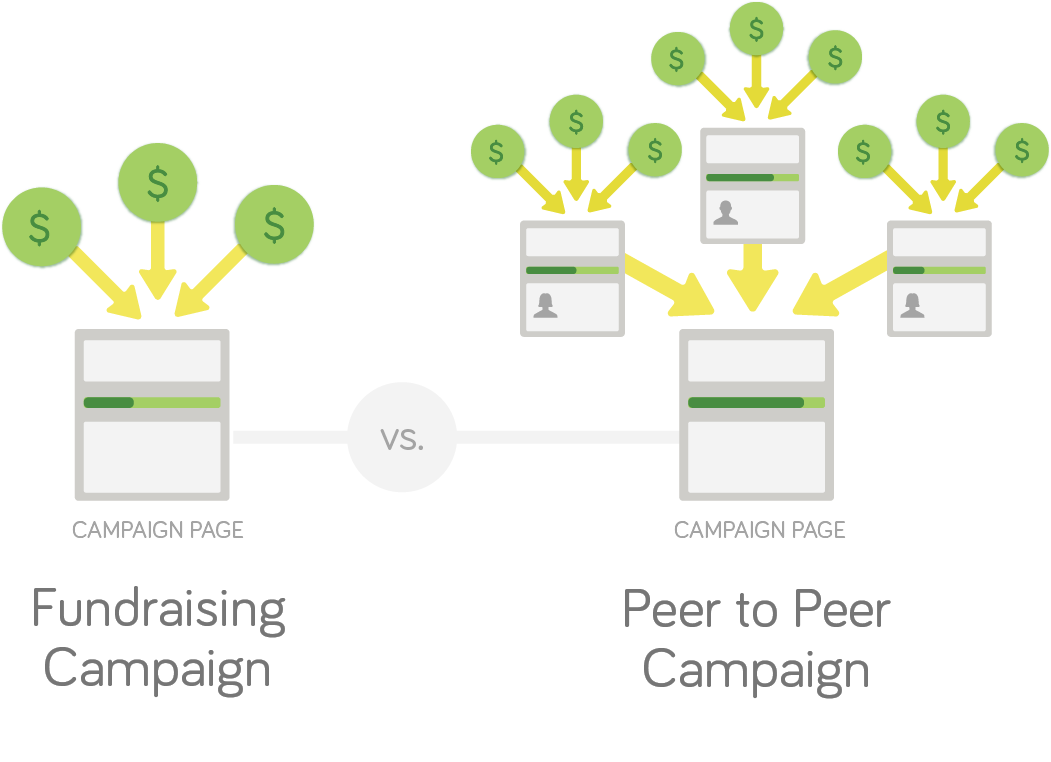 What are the benefits of Peer-to-Peer?
The obvious benefit is an increased volume of donations. (Did I mention 300 times more?) But because your fundraisers are going outside your existing network, you'll find that many of these donors are first-time donors. Using this approach makes hitting a short-term goal incredibly easy, but the real value of peer-to-peer is the ability for you to collect contact information from hundreds of people outside of your immediate network.
That sounds great, but how do I put it in action?
Peer-to-peer campaigns generally come in two types: time-based or ongoing.
Time-based campaigns revolve around either an event organized by the non-profit, such as a race, or have a timed goal to fund a specific project. They usually run for 6-8 weeks and few are shorter than 30 days. Fundraisers are galvanized by the time restriction and work to raise funds before the collective deadline.
For ongoing campaigns, fundraisers will usually set their own timelines and structure these campaigns around personal events like birthdays, graduations, or personal goal challenges. The main campaign itself, however, remains open indefinitely so each fundraiser can begin and end participating as they please.
With both types, you can layer on additional elements. You can keep fundraiser signup open or closed, you can keep everyone's progress shown or hidden, and you can also put individual fundraisers into teams to fundraise in collaboration or in competition with one another. Making it into a contest to see who can raise the most funds or recruit the most donors is a great way to drive additional engagement and amplify the impact.
Below, we'll provide you with some campaign examples and actionable insight into each of these scenarios, their applications, and what they can look like. (Clone-ready campaign examples are linked and bolded!)
---
TIME-BASED PEER-TO-PEER CAMPAIGNS
athletic event
The most classic and well-known kind of a peer-to-peer campaign is an athletic event where participants ask their friends and family to sponsor them to participate. This combines P2P with event registration where you can either charge participants a registration fee or to fundraise in order to participate in the event. This also allows participants to garner support, get others excited about attending the event, and spread the word about your organization.
Some of the most popular campaigns are 5k Run/Walks, Marathons, Hike-a-thons, or even Surf-a-thons.
Impact goal
Just about any classic donation or crowdfunding campaign can be turned into a peer-to-peer fundraiser. The quintessential crowdfunding campaign rallies people together over a common goal, usually to fund a project or achieve an impact goal. This is the most ubiquitous type of fundraiser, so let's get right to our example: fundraising to Build a School.
giving day
A giving day is a mini time-based campaign, usually 24 hours. The most well-known is #GivingTuesday, which kicks off the holiday giving season and is always the Tuesday immediately following Thanksgiving. This is a nationwide giving day that all charities and non-profits can participate in. The theme is simple: remembering to give back (perhaps making up for indulging in Black Friday/Cyber Monday). While some feel that giving days distract and cannibalize donors from typical year-end and scheduled fundraisers, that has not proven to be the case. Usually, they end up being a great way to capture a different set of donors than your typical campaigns, and some have even found that 60% of donors are new to the organization. With nearly every single charity fundraising on Giving Tuesday, however, it's easy to get lost in the fray. For this reason, it's worth exploring the regional giving days (such as NM Gives) and topic-specific giving days that happen throughout the year. These give spotlight to non-profits in particular regions or that serve a particular mission. Here's a handy (albeit a bit outdated) list of all the giving days throughout the year that you may want to participate in.
A giving day can be done in a standard campaign fashion, but it's also a perfect application for P2P. By motivating members to become fundraisers, you'll be multiplying your impact and efficacy. The condensed timeline will create the right kind of time pressure and make this a fun sprint, particularly if you frame this as a contest for who can raise the most funds by the end of the day. Here's an example.
---
ONGOING Peer-to-Peer CAMPAIGNS
Special Occasion
The most popular occasion campaign is the Birthday Fundraiser. When a birthday or other special occasion comes up, people opt to fundraise for their favorite cause instead of receiving gifts. They ask their friends and family to redirect funds budgeted for presents to support a meaningful cause. It's something all parties can feel great about, and a win-win-win for all. Charity:water is probably best known for popularizing this fundraising model, and you can see it in action here. Although they went to great lengths to custom-build their software just to create these kinds of campaigns, the good news is you don't need proprietary software or anything fancy to pull this off. You can just create a birthday fundraiser template like this one and let your supporters sign up to do the rest.
You can create the same format for graduations and other milestones. You can even have an entire page on your website dedicated to different campaigns supporters can start on their own, just like charity:water.
personal challenge
Similar to a special occasion, sometimes fundraisers (or your organization) will want to organize a challenge just for fun – either for a personal goal or to raise awareness for a cause. The example that always comes to mind is the ice-bucket challenge that went viral and promoted awareness around the disease amyotrophic lateral sclerosis. Most campaigns won't go viral, but that's not the point. The true goal is to engage your network, to have fun, and to fund your important work. We've seen organizations do jumping-jacks challenges and push-up challenges, too.
Board

Fundraiser
One of the best things about peer-to-peer is the nearly limitless multitude of creative applications. With P2P, you're not limited to just engaging your supporters to fundraise. A peer-to-peer campaign can also be an excellent way to engage your board. Since your board is the group of people most vested in the future success of your organization, why not get them more directly involved with making it happen? With P2P you can enable your board members to develop business sponsorships for your organization with a landing page they can customize and have a direct call-to-action. The best part is both the supporter count as well as the sponsorships formed can be trackable per person. Here's an example of a creative way to tie in board members with sponsorship.
Sell subscriptions
Finally, these platforms are also an excellent tool for community fundraising for schools. You can now help automate the classic magazine subscription or candy sales by creating engaging landing pages and allowing donations and purchases to be accepted online. Of course, grandma can still give Billy cash, too. You'll be able to log all cash and check or other payments to every individual and have it be reflected in their fundraising goal.
---
Before getting started with any of these, don't forget to review the other elements required to drive a successful peer-to-peer fundraiser: set out with a clear goal, share your story, determine and coach fundraisers, and follow up with campaign progress to tell everyone about the impact they've made. As always, deliver on promises and thank your supporters generously!