Estimated Reading Time:
2
minutes
So you have supporters in your database and you've installed all the right fundraising tools on your website, but the donations aren't rolling in. What can you do?
A great start to raising funds is creating an effective email outreach campaign.
Email marketing has the best ROI of any marketing strategy: for every dollar spent, your nonprofit earns $38. Additionally, email outreach allows you to build and maintain relationships with your supporters by keeping them engaged with your organization's work on an ongoing basis. Many subscribers will become donors when prompted at the end of a newsletter, and many will furthermore be compelled to volunteer and spread word of your mission.
Here's what you can do to get your email outreach off the ground:
1. Create an Account with an Email Marketing Platform
If you do not already have an email marketing platform to work with, you can get started with a free service, like Mailchimp. Check out these reviews of free email marketing platforms to see what's right for your organization. From there, you can import your supporter list.
2. Build Your Email List
Make newsletter sign up options readily available on multiple channels. There should be sign up forms on important pages on your website, like the homepage, footer, navigation bar, and your blog. Many email marketing platforms allow for Facebook integration as well.
3. Tell a Story and Concludes with a Prompt to Take Action
A donation request is far more successful when preceded with a compelling story. Relay to your supporters the importance of your vision and how their funds will help your organization achieve its goals. A story can be simple, and is more engaging with visuals. Take for example this email outreach from Charity Water: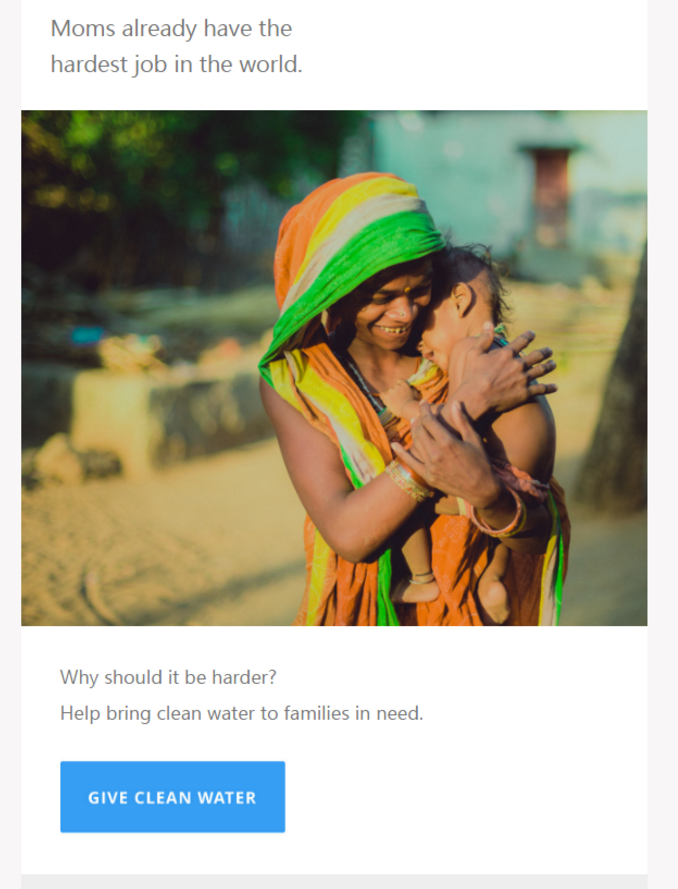 Sent out on Mother's Day, these two sentences instantly capture the importance of Charity:Water's work and urge supporters to make a donation.
Lastly, your emails should include a clear prompt to donate or take action, linking to the donation page on your organization's website or your campaign page.
4. Thank Your Donors
A sincere thank you is essential to donor retention. Flipcause automatically sends thank you emails as soon as a supporter makes a donation through the platform, which you can creatively customize. An example of an effective thank you email is the following by UNICEF: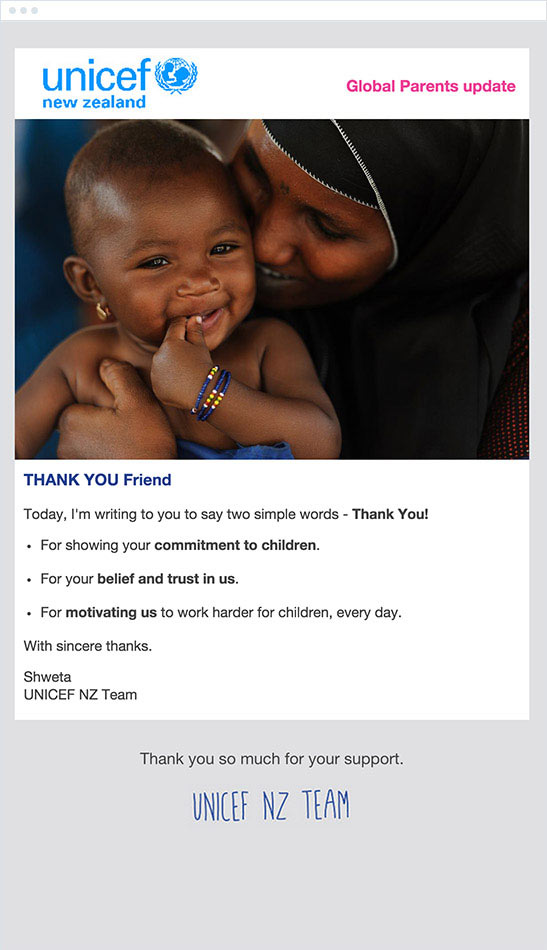 After the automated email is sent, follow up with a more personalized thank you, through email or even a handwritten note. A good thank you letter speaks to the impact the donor is making by supporting your organization's work.
Have you started a nonprofit? What tips do you have for organizations getting started with fundraising? Leave a comment and tell us about your experience!